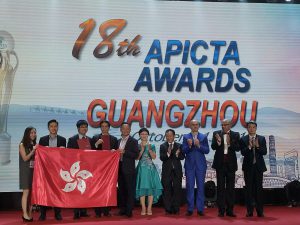 Mr. Johnson Yim, CEO of EBSL (5th from left) joined the Hong Kong delegation in the APICTA 2018 award prevention on stage.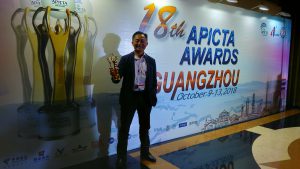 Mr. Johnson Yim received the "Technology of the Year – Internet of Things" award in APICTA 2018 on behalf of EBSL.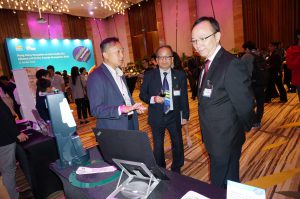 Guests at the APICTA awards are interested in EBSL's application of IoT technologies to improve operation efficiency.
In October 2018, EBSL is honoured to win two APICTA awards at the 18th Asia Pacific Information and Communications Technology Alliance Awards 2018 (APICTA 2018), namely the "Technology of the Year – Internet of Things" and "Merit Award – Public Sector and Government". The APICTA Awards, being one of the most prestigious awards in the industry, is often dubbed as the "Oscars of the ICT arena" in the Asia Pacific region.
EBSL's "Intelligent RFID-embedded Baggage Loading Robotics for Automated Baggage Reconciliation" was voted by professional judges from 16 countries and territories across the Asia Pacific as the "Technology of the Year – Internet of Things". The award recognises EBSL's application of IoT technologies in one of the busiest airports in the world by deploying inter-connected physical devices to enable data extraction and create new information to improve efficiencies and accuracy, reduce human intervention which eventually brings economic benefits. Competing solutions include new methods to connect IoT devices, sensor technology and smart technology for businesses, governments, and consumers, improving lives through the adoption of remotes, dashboards, networks, gateways, analytics, data storage, and security.
EBSL also received a Merit Award for its superior service to the public sector and government. The award recognises EBSL's services which delivers digitisation of citizen services and improve efficiencies in the machineries of the government. A number of solutions developed by all levels of government or government in collaboration with industry partners participated in the contest and EBSL was presented a Merit Award for our outstanding ICT innovation dedicated to delivering improved government service delivery and other Digital initiatives for the public.
EBSL's superior capabilities in applying cutting-edge IoT technology into real-life applications to support business innovations and digital transformation was appraised during the award presentation. 
The award presentation was held on October 10-13, 2018 in Guangzhou and EBSL joined the Hong Kong delegation who won a total of 19 awards in 10 categories over more than 260 entries. EBSL appreciates the great support rendered by the Airport Authority Hong Kong, Hong Kong Computer Society and APICTA in making all these come true!
---
Please visit the below weblinks for further information:
HKSARG Press Release at https://www.info.gov.hk/gia/general/201810/13/P2018101300859.htm.
Hong Kong Computer Society (HKCS) Press Release at http://www.hkcs.org.hk/wp-content/uploads/Publication/Press_Release/APICTA-2018-Results-Announcement-Press-Release-of-the-day-final-version.pdf
About the Asia Pacific Information and Communication Technology Alliance Awards (APICTA)

APICTA is an annual flagship event of the ICT industry in the Asia Pacific region. Founded in 2001 by Multimedia Development Corporation in Malaysia, it has become a renowned international award today. APICTA aims to recognise organisations and individuals in the Asia Pacific region who have made a significant contribution to the ICT industry; increase ICT awareness in the community; stimulate ICT innovation; provide opportunities for business matching between IT innovators and investors; and facilitate technology transfer and application. APICTA is represented by 16 countries and territories across the Asia Pacific region, including: Australia, Bangladesh, Brunei, China, Chinese Taipei, Indonesia, Japan, Hong Kong SAR, Macao SAR, Malaysia, Myanmar, Pakistan, Singapore, Sri Lanka, Thailand and Vietnam. These member economies take turns hosting the annual awards each year, which is won through a bidding process.
For more information, please visit www.apicta.org.
Since APICTA was established in 2001, the Hong Kong Computer Society, as the largest and most well-established IT professional association of its kind with an in-depth understanding of local ICT industry development, has been responsible for nominating Hong Kong's ICT talents to participate in the event.