Partnering with Arwin, EBSL's smart toilet solution helps client improve the indoor air quality and enhance the cleaning management of toilets
Hong Kong, 12 January 2021 – EBSL, a leading technology solutions provider, today launched its smart toilet solution adopting Arwin SENSO8 first battery operated wireless indoor air quality sensor to facility/property management companies. This new Indoor Air Quality Sensor also has different models to cater for air quality monitoring in general office and carpark environment.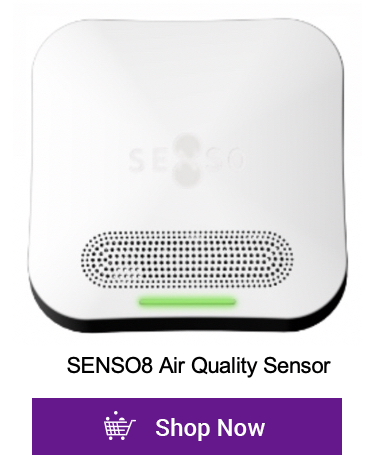 SENSO8 Indoor Air Quality Sensor provides real-time environmental monitoring for facilities management, it collects information with the battery-operated sensors installed across the toilets and monitors the air quality of the toilets such as Ammonia NH3, Hydrogen Sulfide H2S, Temperature and Humidity through data analysis. According to an Air Quality Index (AQI), the colour coded indicators of different indoor air quality will be lighted on the sensor, the information will be reflected real-time on tablet computers or mobile phones by means of the IoT platform and mobile applications and can notify the relevant staff to address air quality issue in the toilets at no time.
Applying other smart functions using Arwin's products with EBSL's Zenzi IoT platform, this smart toilet solution include interaction between sensors and automatic detections of water usage, power utilization and water leakage on the floor, which allow operation staff and management to obtain the relevant information for planning and optimizing the toilet's cleaning cycle in the long run. The solution has been purposely built to offer the utmost flexibility, scalability and agility, enabling enterprises to integrate advanced technologies like IoT, connectivity, data processing and analytics into the solution at the pace that is right for their business.
"We're excited to offer this first battery operated SENSO8 Wireless Indoor Air Quality Sensor to the market using our latest proptech solutions to monitor the air quality in the toilets, it helps our clients to develop and execute their innovation agenda by emerging property related technologies to disrupt existing business models and achieve business outcomes faster. Our smart toilet solution has proven its ability to help the enterprises use their data more effectively to make informed decisions," said Alfred Kam, Chief Commercial Officer at EBSL.
– Ends –
About EBSL
EBSL | E-Business Solutions Limited, a leading technology solutions provider, solves the enterprises' technology challenges with RFID, IoT, Smart ID, SMS and Mobile solutions in Aviation, Health Care, Property & Facility Management, Construction, Education and Supply Chain Industries. These solutions are backed by the professional technology and business transformation teams, helping the enterprise to streamline its operations and achieving the business goal.
EBSL's IoT platform Zenzi is a connectivity independent platform which helps the clients to deploy IoT solutions in a very cost-effective way.  Working hand in hand with the award-winning FM+ Facility Management Solutions, the company provides all-in-one IoT solutions to the enterprise clients.  FM Plus, RFiDY and Zenzi are the trademarks of EBSL or its subsidiaries.  Visit www.ebsl.hk for more information or follow us on LinkedIn.
About Arwin
Arwin is a company in Hong Kong, focus in developing wireless sensor solution for IoT market, especially for the application of facility and building management as well as premises tracking. The company partners with its customers to make the adoption of sensor IoT easy and possible. To learn more about Arwin's wireless sensor products, please visit www.arwintechnology.com.
Media contact:
Emily Cheung

echeung@ebsl.hk